Frontline General: Italian Campaign Introduction
Overview
Details
Learn to Play
Downloads
Reviews
Gallery
FAQ
Frontline General: Italian Campaign Introduction introduces players to the Frontline General 'Land, Air, & Sea Tabletop Simulation', an Operational and Tactical Scale WWII Strategy System. The system covers Land, Air, and Sea wargaming mostly at the Operational level as a board game, but also allows detailed Combat Resolution at the Tactical Level using 3rd Party Miniatures (15mm Recommended) or the included Unit Markers. The same basic combat system is used at each game scale. In this way, the Campaign may be used to 'drive' more detailed tabletop miniatures battles for decisive engagements. Miniatures battles expand on the game's normal Operational Scale combat by providing more terrain interaction, 3D movement for Aircraft, Unit Facing, Movement between 'Combat Rounds', line of sight checks, Morale rules, and more.
Team Play Command rules allow up to 5 players per side to play against each other as teams that subdivide turn and command responsibilities between one 'Frontline General' and up to four subordinate 'Commanders'.
Units such as Tanks, Vehicles, Emplacements, Aircraft, and Guns require crews. In this way, the 'men behind the machines' may gain experience and improve as the game progresses. They may also be destroyed or captured apart from the Units they crew. This allows interesting situations to occur such as capture of an enemy gun, crewing that Gun using your men, and then turning that Gun against the enemy.
A basic Economic System charges players with choosing to procure an effective balance of Units for the objectives at hand. Players must also manage a simple Supply system to ensure Units remain fueled, fed, and supplied with adequate ammunition. Frontline General: Italian Campaign Introduction is available in two forms - the full game as a Free print & play version or a high quality production version.
This was our first release at Collins Epic Wargames. The combat system from ICI inspired the Spearpoint 1943 line of games. While notably more complex than Spearpoint 1943, ICI remains a solid system for gamers seeking a miniatures campaign system or more action at a higher level of scale.
Contents:
Comprehensive Rules on CD (searchable PDF & online)
Scenario: Foggia Airfields on CD (searchable PDF & online) + Conflict at Bari scenario online
8-1/2"x11" Full Color Map (a portion of Southern Italy)
403 full-color two-sided German and US Unit Cards
415 5/8" Hexagonal Counters, plastic-backed, die cut
40 full-color two-sided Command Cards
52 full-color two-sided Event Cards
88 Notes of Game Currency
12 Dice
Experience, Unit ID, and other Counters
500 Ultra-Pro Card Sleeves
Telescoping Box
Find out more about this game under Details.
Download the full print and play version and supporting files in the Downloads section.
Buy the game direct through Collins Epic Wargames.
Enhance the map with the full southern italy map available on Wargame Vault as a PnP download.
Designer: Byron Collins
Artwork: Byron Collins (game), Mark Mahaffey (map and box)

Frontline General: Italian Campaign Introduction is best known as a boardgame that drives miniatures battles. This game is notably more complex than Spearpoint 1943 games from CEW and was originally released as a free Print-and-Play game. It's how CEW got started making games. The production version includes everything listed under the Overview and packs the box full of wargaming goodness. If you are a WWII miniatures gamer looking for something higher level to drive your skirmish games, look no further than Italian Campaign Introduction.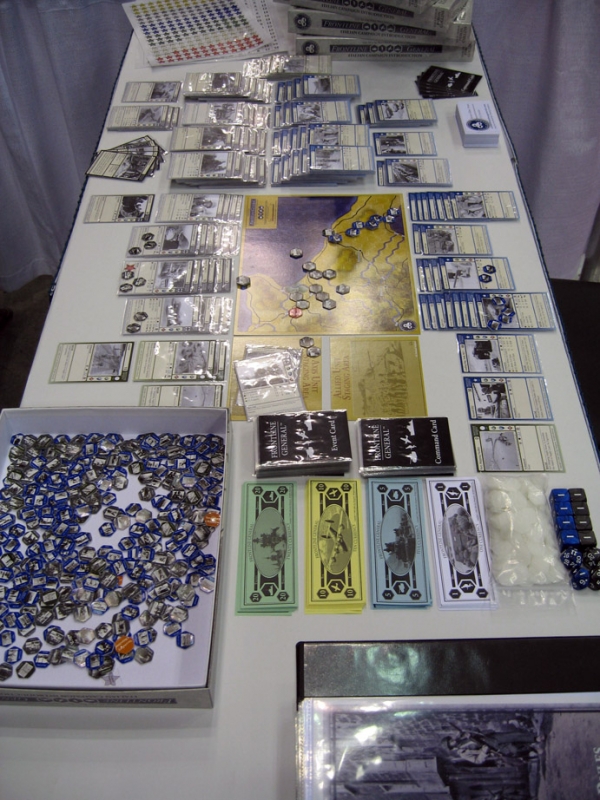 If you are new to the system, we first recommend that you read the rules (download them in the Downloads tab) and then check out the full Print-and-Play version. If you like how the gameplay looks from the rules and components, either print them out and create the game yourself, or buy the production version from us directly.
To expand the area of play from the relatively small map, we recommend purchasing the full size 60"x50" Southern Italy Map through WargameVault.com.
Features:
Campaign System for Miniatures - Drive Miniatures Battles with the boardgame.
Incorporates use of Optional 3rd Party Miniatures (15mm recommended)
Provides Operational level and Tactical Level Rules
Expand the game further with a vinyl 22"x17" map or the full 60"x50" Italy map (Digital Download PDF)
Historicon Silver Star Award Winner - 2009
The Combat System of ICI is the inspiration for our bestselling Card Wargame, Frontline General: Spearpoint 1943.
The best way to learn ICI at this time is to start by reading the rules online. The rules are too comprehensive to summarize here. Once you have the basic turn flow down, play the intro Foggia scenario, and then create your own standard game setups. We recommend only using the miniatures driver for a single battle at first, typically for the final objective. A quick reference sheet will help during games of ICI (available in the Downloads Section) for in-game rules references.
We fully support our games. If you ever have any questions about how to play, please get in touch with us through the game's forums on Boardgamegeek.com or direct by e-mail.
Download Rules, the Quick Reference Sheet, or the full PnP game version (includes all files plus scenarios) for Frontline General: Italian Campaign Introduction below. Most files are Adobe PDF format and require Adobe Acrobat Reader to view them. The ICI PnP is a zip archive.
Rules and Situations
What Players Say about ICI
"I have barely touched on the possibilities of this game. I foresee great possibilities for this system and am looking forward to further expansions... This is a different type of game and game system is very intriguing and engaging. I think it will gather a nice dedicated following of those who are interested in the Italian Campaign. I can see customers adding scenarios to this gaming system, expanding and extending its vision and capabilities. Frontline General – The Italian Campaign is a unique game system that will provide gamers with hours/weeks/months of "Happy Gaming"! - Richard Mataka www.mataka.org

"Received my game today. I must say, AMAZING! The quality is unbelievable. The amount of stuff in the box is unbelievable. My lack of additional adjectives is unbelievable. But truly top notch production. Having given the rules a quick read through, the rules look detailed, but not overwhelming. I for one look forward to playing out the tactical battles with miniatures." - Todd Mewborn
"As an old wargamer (53 years old) who has a vast collection of wargames, you bring a fresh wind in our hobby. Also as a Canadian (French from Quebec) who follows everything on wargames, your hybrid concept which integrates the operational and tactical dimensions of warfare merit the attention of our community." -Pierre Ruel
Review by Richard Mataka (Source: mataka.org)
Review by Mike Siggins (Source: BGG)
Review by John DiPonio (Source: BGG)
Gallery of Italian Campaign Introduction In Action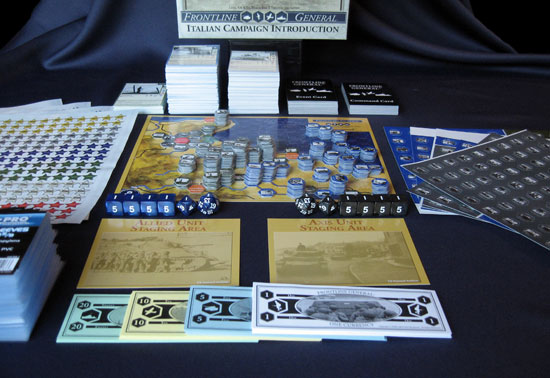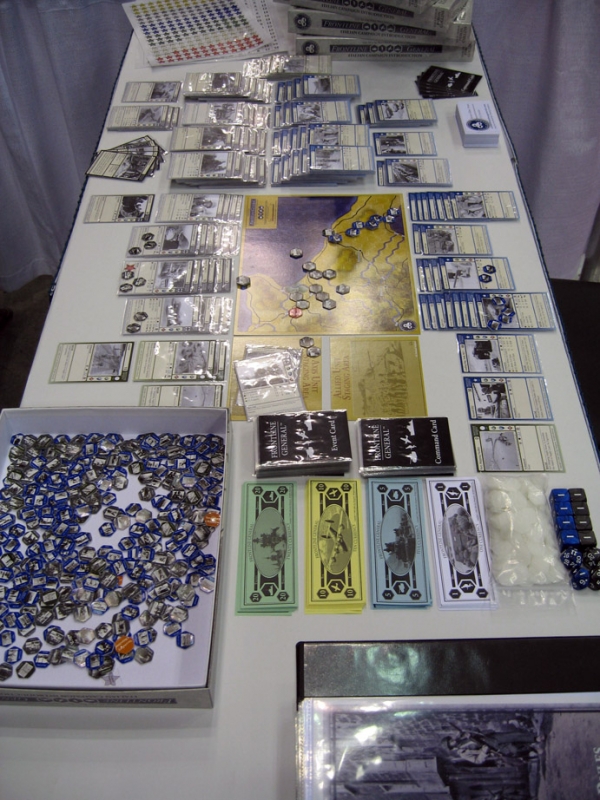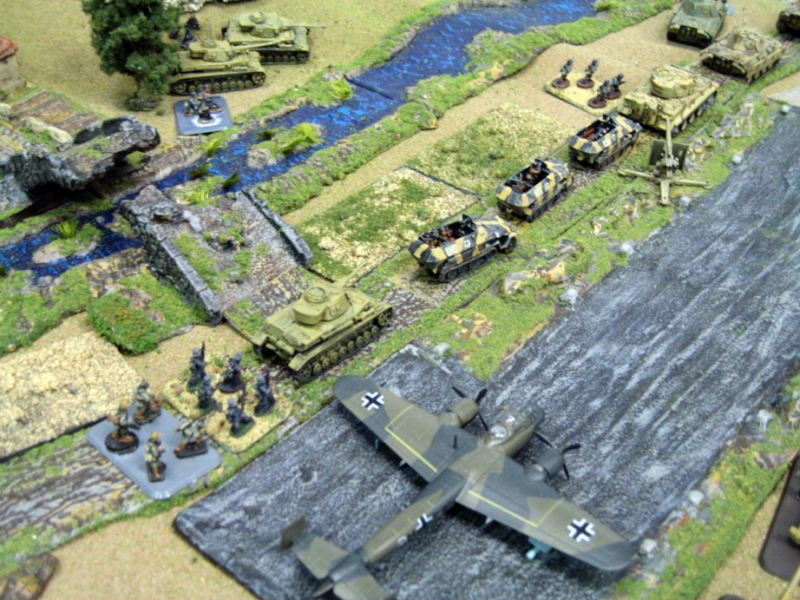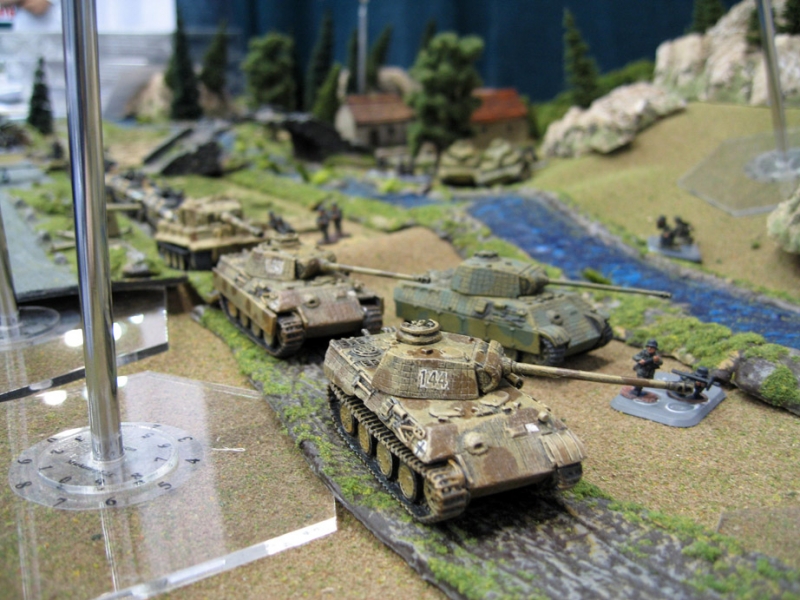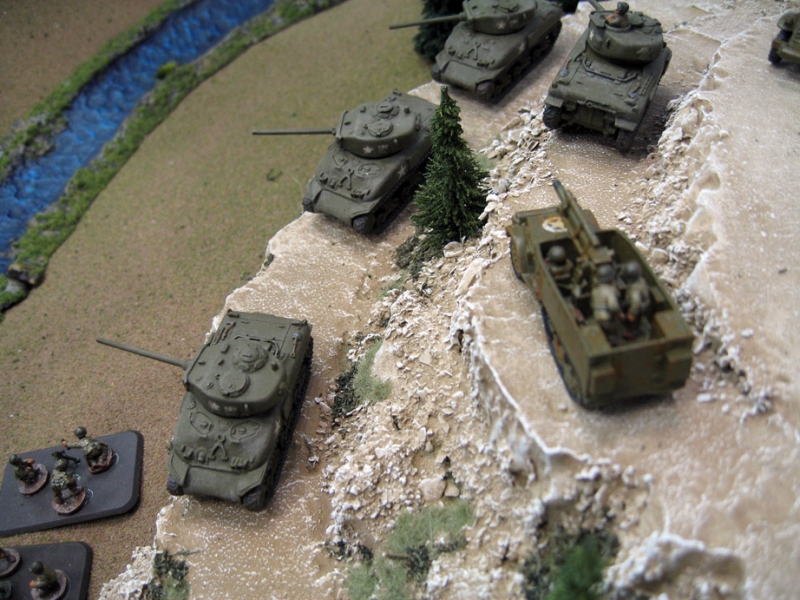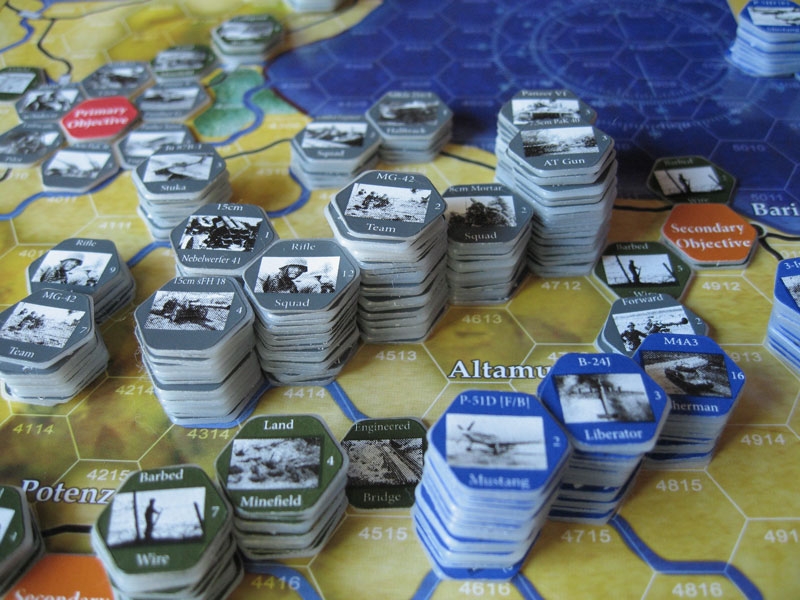 General Frequently Asked Questions
Below are frequently asked general questions about this game.
Q: What is the level of difficulty of this game?
A: The game is medium/high complexity.
Q: What is the level of abstraction of this game?
A: Some abstraction is made with respect to supply and unit representation. Units represented are a 'sample' of what combatants would actually be fighting. Players manage that sample.
Q: Is this a "hardcore" wargame simulation?
A: This is more "hardcore" than Spearpoint and is intended for Miniatures gamers who seek a campaign system at the operational level to drive their miniatures battles.
Q: What is the "luck factor" of this wargame?
A: Dice are used to resolve combat engagements, but much of the remaining strategies in the game are not luck-based, they are up to the players.
Q: Is this a good introductory wargame?
A: No. You should consider Spearpoint 1943 first, which is inspired from this game's combat system. The rules difference is notable between the two systems.
Q: How long does this game take to play, including setup?
A: Approximately 4 hours for a typical game, up to a full day or even a weekend if players are fighting out engagements with minatures.
Q: How much replayability does this game offer?
A: Replayability is key. Standard games let you customize many aspects of the game. While there are not many scenarios available that put you in a particular situation, players are encouraged and given the tools to create their own.
Q: Can I get a larger map?
A: Yes. We recommend the 60"x50" map available as a Print-and-Play download through Wargame Vault to enhance the game.
Q: Will the game be expanded?
A: Possibly. As the game is much more complex than our other offerings, we currently have no plans for expansion due to lower interest in higher complexity games, but the possibility exists for future expansion.